Course details
【Luxurious foie gras and steaks ...】 Premium course 7 items 5500 yen ⇒ 5000 yen + 2 hour drink all you can afford 1500 yen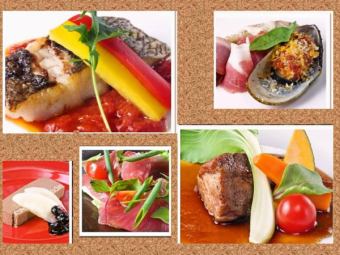 5000 Yen
Usually 5500 yen ⇒ 5000 yen for coupons
All-you-can-drink available

All-you-can-drink course
Reservation deadline

Coming to the store until the desired date of the day 17
Available days for reservation

Monday - Sunday - Public holidays - Holidays
It is a slightly luxurious course with the steak of luxurious foie gras also attached to the dish which upgraded the course to 3500 yen.For a dinner party with important people ... etc.Combined with birthday hall cake coupons! Offer dishes with a dish for each person
Course menu
[Course content is an example]
■ Four special hors d'oeuvres
Norwegian salmon herb salted / home-made pickles / Parma produced Piogini's raw ham etc.
■ French Foie Gras Steak ~ Melody Madera Wine Sauce ~
■ fresh fish carpaccio
Tianjin Carpaccio at Yaizu Port - Tailoring the salad ~
■ Today's fish cuisine
Muniel of the sea bream ~ Yuzu sauce ~
■ Today's meat dish
■ Today's risotto
■ homemade desserts
Rich cheese cake with black sesame seeds
※ Depending on the purchase of the day, the dish content may be slightly different.
※ Please do not hesitate to contact us if you have something weak.
* Please choose either pasta or risotto in one set.
※ All you can drink 2 hours at + 1500 yen (All you can drink for 4 people ~)
All-you-can-drink menu
·draft beer
Premium Malt
- A glass of wine
Red / white
·Cocktail
· [Gin] Tonic / Soda / Ginger Ale [Vodka] Tonic / Soda / Ginger Ale 【Cassis】 Orange / Grapefruit / Oolong
·plum wine
Rock / soda / whiskey and water
· Authentic wheat · sweet distilled spirit
· Rock / water split / oolong / tea ceremony
·Soft drink
Oolong tea / orange juice / grapefruit juice / cool tea
2018/04/03 update